Selling Your Home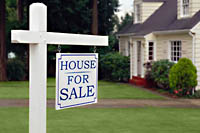 For most families, their home is their largest financial asset, and deciding to sell it is a big decision that involves a lot of preparation and work. When you're ready to sell it's important to have an experienced real estate professional handle the details involved in the successful sale of a home for top dollar.
As an experienced professional who has helped many Central Florida Area residents sell their homes, I know how to handle every aspect of the sales process - from strategically marketing and showcasing your home to making sure everything's signed, sealed and delivered by the closing date.
Providing you with comprehensive, high-quality listing service is my top priority. So when you decide to sell your home, please contact me and let's get started!
The following articles are a great place to start if you're looking for information about the sales process and how you can get more for your home when you decide to sell.
What Is Foreclosure?

Home foreclosure is a process by which a lender regains a property which they have financed. Typically, this is because the control.
When the lender forecloses on the homeowner, the homeowner must move out of the house, therefore, losing all possession of
the property and jeopardizing any possible equity that the homeowner may have in the home.


Foreclosure Timeline

A Borrower has within 20 days after a foreclosure Complaint is served to file a response. If no response is filed, a default will be
entered and the foreclosure will be processed as uncontested. Generally, a foreclosure Defense strategy cannot be employed after
a default is entered. An uncontested foreclosure will be processed in four (4) to six (6) months.


Avoiding Foreclosure
The Obama Administration has implemented a number of programs to assist homeowners who are at risk of foreclosure and otherwise struggling with their monthly mortgage payments. The majority of these programs are administered through the U.S. Treasury Department and HUD. This page provides a summary of these various programs. Please continue reading in order to determine which program can best assist you.
Distressed homeowners are encouraged to contact their lenders and loan servicers directly to inquire about foreclosure prevention options that are available. If you are experiencing difficulty communicating with your mortgage lender or servicer about your need for mortgage relief, click here for information about organizations that can help contact lenders and servicers on your behalf.
The Making Home Affordable © (MHA) Program is a critical part of the Obama Administration's broad strategy to help homeowners avoid foreclosure, stabilize the country's housing market, and improve the nation's economy.
Homeowners can lower their monthly mortgage payments and get into more stable loans at today's low rates. And for those homeowners for whom homeownership is no longer affordable or desirable, the program can provide a way out which avoids foreclosure. Additionally, in an effort to be responsive to the needs of today's homeowners, there are also options for unemployed homeowners and homeowners who owe more than their homes are worth. Please read the following program summaries to determine which program options may be best suited for your particular circumstances.
Modify or Refinance Your Loan for Lower Payments
"Underwater" Mortgages
In today's housing market, many homeowners have experienced a decrease in their home's value. Learn about these MHA programs to address this concern for homeowners.
Assistance for Unemployed Homeowners
Managed Exit for Borrowers
FHA-Insured Mortgages
The Federal Housing Administration (FHA), which is a part of the U.S. Department of Housing and Urban Development (HUD), is working aggressively to halt and reverse the losses represented by foreclosure. Through its National Servicing Center (NSC), FHA offers a number of various loss mitigation programs and informational resources to assist FHA-insured homeowners and home equity conversion mortgage (HECM) borrowersfacing financial hardship or unemployment and whose mortgage is either in default or at risk of default.
CONTACT FHA
FHA staff are available to help answer your questions and assist you to better understand your options as an FHA borrower under these loss mitigation programs. There are several ways you can contact FHA for more information, including: